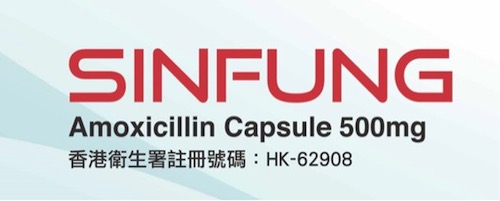 ---
SINFUNG (amoxicillin) is a moderate-spectrum, bacteriolytic, β-Lactam antibiotic in the aminopenicillin family by inhibiting the synthesis of cell walls of both Gram-positive and Gram-negative bacteria.
Amoxicillin is used to treat certain infections caused by bacteria, such as pneumonia, bronchitis, gonorrhea, and infections of the ears, nose, throat, urinary tract, and skin. It is also used in combination with other medications in order to treat stomach ulcers caused by H. pylori infection.
Amoxicillin can act against a wide range of Gram-positive, and a limited range of Gram-negative organisms. It is usually the drug of choice within the class because it is better absorbed, following oral administration, than other beta-lactam antibiotics. Amoxicillin is susceptible to degradation by β-lactamase-producing bacteria, and so may be given with clavulanic acid, a β-lactamase inhibitor, to increase its susceptibility and the spectrum of action against Gram-negative organisms, which is helpful to overcome bacterial antibiotic resistance mediated through β-lactamase production.
To be used only as directed by medical practitioners. Please contact doctors or registered pharmacists for details.