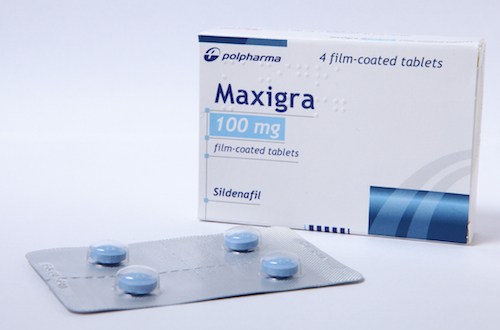 ---
Maxigra (sildenafil) belongs to the group of phosphodiesterase 5 (PDE5) inhibitors which leads to vasodilation and increased inflow of blood into the spongy tissue through smooth muscle relaxation. Maxigra is used to treat men who have erectile dysfunction (ED) and reduce symptoms in patients with pulmonary arterial hypertension.
Sildenafil inhibits the cGMP-specific PDE5 which is responsible for degradation of cGMP in the corpus cavernosum located around the penis. Penile erection during sexual stimulation is caused by increased penile blood flow resulting from the relaxation of penile arteries and corpus cavernosal smooth muscle. This response is mediated by the release of nitric oxide (NO) from nerve terminals and endothelial cells, which stimulates the synthesis of cGMP in smooth muscle cells. cGMP causes smooth muscle relaxation and increased blood flow into the corpus cavernosum. The inhibition of PDE5 by sildenafil enhances erectile function by increasing the amount of cGMP.
Sildenafil is a highly effective treatment associated with a good safety and tolerability profile in men with ED. It is also effective in several difficult-to-treat subpopulations such as patients with diabetes mellitus or after radical prostatectomy, including men in older age groups. Sildenafil significantly improves satisfaction and quality of life for both patients and partners.
To be used only as directed by medical practitioners. Please contact doctors or registered pharmacists for details.