Competence in medical technology, innovative products, and outstanding services characterize SMT medical.
With a particular focus on vascular diagnostics, SMT medical builds on 20 years of experience in Transcranial Doppler Sonography (TCD) and other vascular testing modalities. Offering a broad range of cardio-vascular, peripheral-vascular, and neuro-vascular testing instruments, SMT medical caters to clinical and research applications in hypertensiology, internal medicine, cardiology, neurology, epidemiology, and in corporate and public health programs. The company is an innovator in arterial stiffness and endothelial function testing.
Vicorder®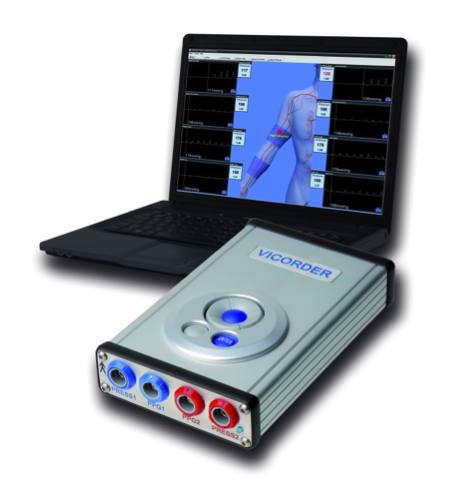 The small Vicorder® fits well on your palm. Yet it integrates all functions of a complete vascular lab: Doppler, Pulse Volume Recording, Oscillometry and Photo Plethysmography, dual channel testing. The compact Vicorder® case houses medical high tech: Digitally controlled pneumatics inflating and bleeding the cuffs, sensors for pressure and photo plethysmography, Doppler and remote control. A miracle in efficiency and user friendliness. All these features right at your fingertips!
Comprehensive Arterial and Venous Testing Modalities
Bidirectional CW Doppler
Ankle-Brachial-Index (ABI)
Finger, toe and penile pressures
Segmental pressures
Pulse Volume Recording (PVR)
Photo Plethysmography (PPG)
Pulse Wave Velocity (PWV)
Stress testing
Thoracic Outlet Syndrome
Raynaud Syndrome
Perfect User Interface
Automated protocols
Patient record management
Compact and portable
Operates on PC or notebook power supply (no mains outlet needed)
USB adaptor to PC
Integrated remote control
MS Windows based software included
Vicorder® complies with all relevant safety regulations (medical CE, IEC).